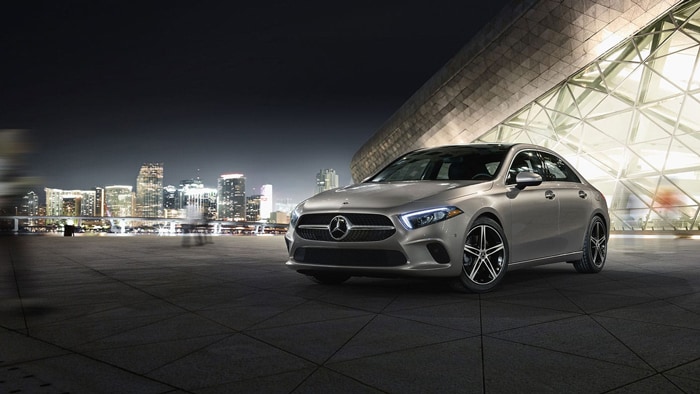 The 2021 Mercedes-Benz A-Class does a lot of heavy lifting for such a small car. It's a great point of entry to the brand, but it's also found an adoring audience among drivers who have larger luxury cars and want to downsize. Those are just two of many reasons to visit Mercedes-Benz of Jacksonville for a test drive. 
2021 Mercedes-Benz A-Class Details 
The 2021 Mercedes-Benz A220 is the smallest new Mercedes-Benz model, a distinction once held by the Mercedes-Benz CLA 250. In terms of power, space, and luxury, however, it punches well above its weight thanks to the addition of 4MATIC® all-wheel drive, a feature which is rarely found in this class of vehicles. 
This year sees some small changes to the standard features list. Blind spot monitoring becomes a standard safety feature, as do attractive two-tone 18-inch alloy wheels. If you want the MBUX® Interior Assistant, you no longer have to spring for the Multimedia Package. However, we'd still suggest springing for the package, as it comes with features like navigation and traffic sign recognition. 
2021 Mercedes-Benz A-Class Safety and Special Features 
"Entry-level" shouldn't mean "half-baked." That's why standard features in the 2021 Mercedes-Benz A-Class include keyless start, a Dynamic Select® engine and suspension adjustment, and, as mentioned previously, the advanced MBUX® infotainment system. 
That said, when you arrive at our Mercedes-Benz dealership in Jacksonville, FL, you'll find many stand-alone and package-based options to customize the Mercedes-Benz A-Class. For instance, the Driver Assistance Package, which bundles key driver assist aids, is highly recommended. So, too, is the Premium Package, which gives you larger display surfaces and access to the lovely Burmester premium sound system. 
Buying a 2021 Mercedes-Benz A-Class 
The Mercedes-Benz brand has a reputation to uphold. That means giving their best even at the entry-level end of the lineup. Small though it may be, the 2021 Mercedes-Benz A-Class still looks, feels, and performs like the premium vehicle that it is. Visit Mercedes-Benz of Jacksonville today to schedule a test drive, explore your Mercedes-Benz financing options, and more!